DFW Haunted Houses
Haunted House Videos
CBS Most Haunted
Haunted House Reviews
10/10/10 Hilary Kennedy reviews one of the best DFW Haunted House's. the Boneyard Haunted House in Arlington, Tx. The Boneyard bills itself at the Longest walk-thru Haunted Attraction around. At over 2,800 feet in length it took over 45min to make it out.
Dallas Haunted House Warnings
Dallas Haunted House Reviews
Hilary interviews the CareTaker
10/10/10 Hilary Kennedy interviews the CareTaker. or at least she makes a good attempt
Reports of Paranormal Activity
Workers killed at local Mall
"Boneyard 2010 Videos"
The makers of the Hollywood film, "Hallows End" selected the Boneyard to film their Horror Movies production in a real haunted house. It is said that they found this house to be the most disturbing. If there really are ghost on this film, we didn't see them. And with no Special Effects. But they found this DFW Haunted House to have what the Director was looking for and one of the Scary Haunted Houses around.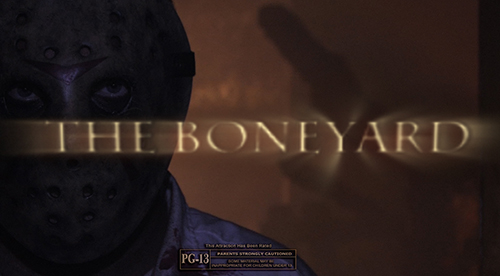 More recently paranormal investigators along with reporters form the CBS Dallas affiliate spent the night in the upstairs section of the 50 year old abandon structure. Psychics reported that several spirits or entities remained in the building that perished in an industrial related accident.
If anyone knows of any other reports of paranormal activity in the Six Flags Mall area or has any scary videos please let us know and we will post it in our blog. Meanwhile, enjoy our Haunted House Videos!