Getting Married in a Haunted House?
Halloween theme Weddings complete with Zombie Ushers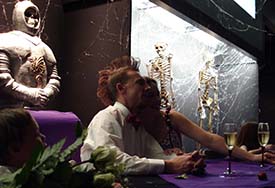 A Haunted House may not be your first choice when it comes to a wedding venue. However each year this Haunted Haunted House in Dallas Texas holds several wedding ceremonies. Complete with Zombie Ushers and Monster Groomsman the Boneyard Haunted House has become a Hot Spot for Halloween theme weddings. Dan Hall - Owner of the Boneyard said that he did not know how to respond the first time he had a request for a wedding. "I had to make sure that the couple knew that this was a Haunted House" Hall said. That was in 2005, Since then the number of weddings has only increased.



Zombie Ushers and Monster Groomsman
"Wedding ceremonies vary from the traditional to the extreme..We use our prop department and special effects make-up to add that special touch"
The Boneyard can accommodate wedding groups up to 1000 guest with the average consisting of 200 to 300 guest. The facility has tables, chairs, catering and DJ equipment.. everything you need to pull off the perfect Halloween wedding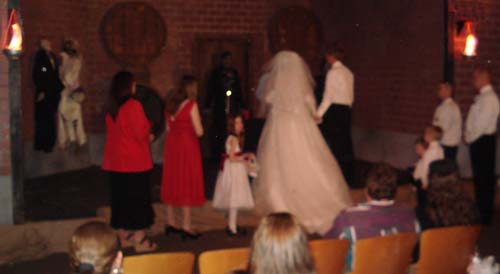 The most popular date for a Haunted Wedding is the Saturday before Halloween - However several couples have wanted to get married on Halloween Night in front of the large crowds waiting to go into the Haunted House.
"Some of the customers just don't know what to think when they find themselves taking part in a wedding" said Hall.
While the aspect of Marriage may be terrifying to some, Hall reports that everyone that has been joined in Holy Matrimony at the Boneyard has remained together! So far the Boneyard haunted House is "Bat"ting a thousand in the wedding department.